SJOG Travelers
Metropolitan Opera 50th Anniversary Gala
By Peggy Heiman
On September 16th 1966, the Metropolitan Opera opened its doors for the first time in a new home at Lincoln Center, with the world premiere of Samuel Barber's Antony and Cleopatra, starring Leontyne Price and Justino Díaz. The New York Times declared the opening of the new opera house a "crescendo of splendor," and a new era of theatrical possibility was born.
On May 7th 2017, the Metropolitan Opera celebrated its 50th Anniversary and my husband Fred and I were there. We did not attend the midnight dinner gala, but were there for five hours of the most memorable opera performances we have ever seen. Elaborate backdrops and sets accompanied each performer, who dressed in costume appropriate to the selection. There were more than three dozen star singers, excerpts from 29 operas, a stage full of vintage film footage and marvelous projected images of classic productions.
The evening opened with Mr. Nézet-Séguin conducting Leonard Bernstein's overture to West Side Story, as a video montage showed decrepit buildings being removed, and animated projections depicting the halls of Lincoln Center rising in an uplifting surge. The emotional high point came with an unscheduled performance: Peter Gelb, the company's general manager, announced from the stage that the Russian baritone Dmitri Hvorostovsky had "defied all the odds and the gods to be here tonight." Mr. Hvorostovsky, 54, is being treated for a brain tumor; in December he announced that he would stop performing in staged opera and he was shaky on his feet when he walked out. The audience broke into a long, welcoming ovation as the beaming Mr. Hvorostovsky blew kisses to his fans and the orchestra. He sang the stormy "Cortigiani" aria from Verdi's Rigoletto and the distinctive dark colorings of his sound and his communicative intensity came through in a valiant performance.
The conductors were Marco Armiliato, James Levine and Yannick Nézet-Séguin. The program included: Antony and Cleopatra (From Alexandria, this is the news) sung by Metropolitan Opera Chorus; Andrea Chénier (Nemico della patria) sung by Plácido Domingo; Luisa Miller (Oh! Fede negar potessi … Quando le sere al placido) sung by Piotr Beczala; Le Nozze di Figaro (Hai giá vinta la causa … Vedrò mentr 'io sospiro) sung by Michael Volle; Don Pasquale (Pronta io son) sung by Pretty Yende and Mariusz Kwiecien; Tosca (Vissi d'arte) sung by Krisine Opolais; Boris Godunov (Boris' mad scene) sung by René Pape; La Bohéme (Che gelida manina … Sï, mi chiamano Mimi …) sung by Sonya Yoncheva, Joseph Calleja, Dwayne Croft, Yunpeng Wang and Sava Vemić; Werther (Va!Laisse couler mes larmes) sung by Joyce DiDonato; Die Zauberflöte (Der Vogelfänger bin ich ja) sung by Michael Volle; Les Troyens (Nuit d"ivresse) sung by Susan Graham; Adriana Lecouvreur (Acerba voluttá, dolce tortura) sung by Dolora Zajick; La Fille Du Régiment (Ah! Mes amis … Pour mon âme!) sung by Javier Camarena; Macbeth (Nel di della vittoria …) sung by Anna Netrebko; Tannäuser (Entance of the guests into Minstrels' Hall) sung by Metropolitan Opera Chorus; Porgy and Bess (Bess, you is my woman now) sung by Pretty Yende and Eric Owens; Samson et Dalila (Mon Coeur s'ouvre á ta voix) sung by Elina Garanča; Don Carlo (Grand Inquisitor Scene) sung by James Morris and Günther Groissböch; Tosca (E lucevan le stele) sung by Vittorio Grigolo; Thaïs (Baigne d'eau tes mains et tes lévres) sung by Renée Fleming and Plácido Domingo; I Lombardi Alla Prima Crociata (Qual voluttá trascorrere) sung by Angela Meade, Michael Fabiano and Günther Groissböch; Semiramide (Bel raggio lusinghier) sung by Joyce DiDonato; Madama Butterfly (Un bel di) sung by Anna Netrebko; Aida (Act II Finale) sung by Latonia Moore, Dolora Zajick, Yusif Eyvazov, Željko Lučić, James Morris and Sava Vemić.
What a fantastic once in a lifetime opera evening!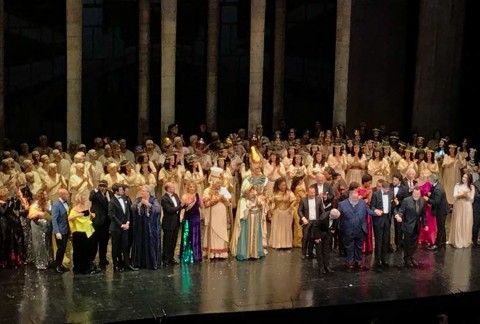 (SJOG Newsletter August 2017)
Read past "Travelers" in the Archives